Service With Integrity
SGL Sales and Marketing was founded in 1958 by Norm Saum, who identified a need for an independent manufacturer's representative agency to serve the Marine Aftermarket in Ohio, Illinois, Indiana, Michigan, and Kentucky. The core of Norm's business philosophy was call frequency, integrity, and developing business relationships with quality vendors. Realizing he couldn't stay true to his core philosophy as a one man agency anymore, Norm added a partner, Fred Gottschalk, in 1977. Norm and Fred divided the territory and serviced it together until 1983, when they decided to begin servicing Marine OEM accounts. Neither having experience nor relationships in that market, they added Jim Loughman to the partnership.
Jim previously worked for Teleflex, Inc in their OEM sales division, and brought instant credibility to the expansion into Marine OEM's in the territory. The face of the partnership changed again shortly after Loughman joined the agency when Norm retired and Warren Hannig became partner. The agency continued to grow, adding a partner in 1995 with the addition of Michael Douglass upon Fred's retirement. SGL saw the retirement of Jim in 2007, and added Marty Scott as a partner at the beginning of 2008. Warren retired one year later to leave the agency as it stands today.
From 1995 to the present, SGL Sales and Marketing has grown to nine agents and has added Missouri, Iowa, Nebraska, Kansas, Minnesota, Wisconsin, North Dakota, South Dakota, Tennessee, Texas, Oklahoma, Louisiana, Pennsylvania, North Carolina, South Carolina, Arkansas, Florida, Mississippi, Alabama and Georgia to the original territory of 5 states.
SGL Territory Map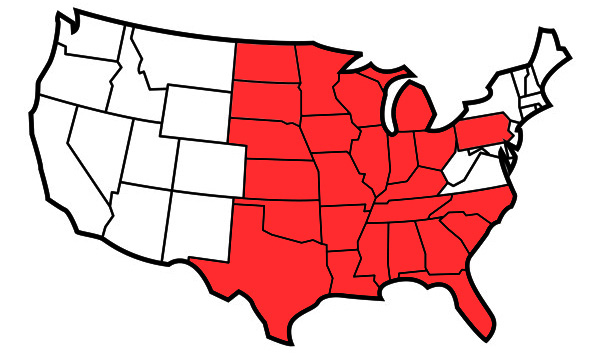 In addition to adding the new states to our territory, time has seen us add the following markets as well; Trailer OEM and Aftermarket, Power Sports Aftermarket, Outdoor Power Equipment, Sporting Goods, Hardware and Marine Commercial & Offshore. Throughout all of our changes in personnel and territory, our core principles still remain rooted in call frequency to our clients, partnering with our vendors to develop and execute the best strategies for bringing their products to our diverse customer base, and most importantly doing it all with integrity.